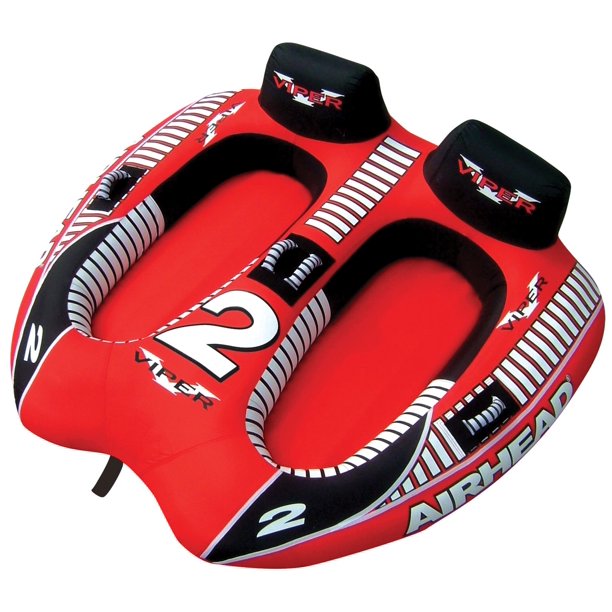 AIRHEAD Viper, 2 rider
Use Code SUMMER30 for 30% OFF
IN-STORE PICK UP ONLY. All online orders must be picked up at Rockport, ME location.
AIRHEAD's VIPER series is a collection of cock-pit style towable tubes. The boat hull shaped bottom is the key to the unparalleled lively and stable ride. VIPER inflatable tubes are perfect for young children who need a more secure ride or are new to water sports. The durable 30 gauge bladders are completely encased in durable double-stitched nylon and the striped nylon wrap handles have neoprene knuckle guards for comfort. 
Airhead and Sportsstuff inflatables and accessories are made of the highest quality materials in the industry. We pride ourselves in building our products with 840 denier nylon covers and 30 gauge PVC bladders, a standard few others can stand behind. If there's a tube shape that can be ridden while towed behind a boat, we make it. If there's a water toy boating enthusiasts are craving, look no further.
New Airhead Viper 2 Double Rider Inflatable Tube
Cockpit towable with inflatable backrests
Boat hull shaped bottom
Heavy-Gauge PVC Bladder with RF welded seams
Double-Stitched Full Nylon Cover
Deluxe nylon handles with neoprene knuckle guards
Boston Valve for convenient inflating and deflating
EVA "Indy Cap" valve cover
2 rider capacity
74" x 73" (deflated)
Part Number: AHVI-F2
Product Condition: Brand New
1 Year Manufacturer's Warranty