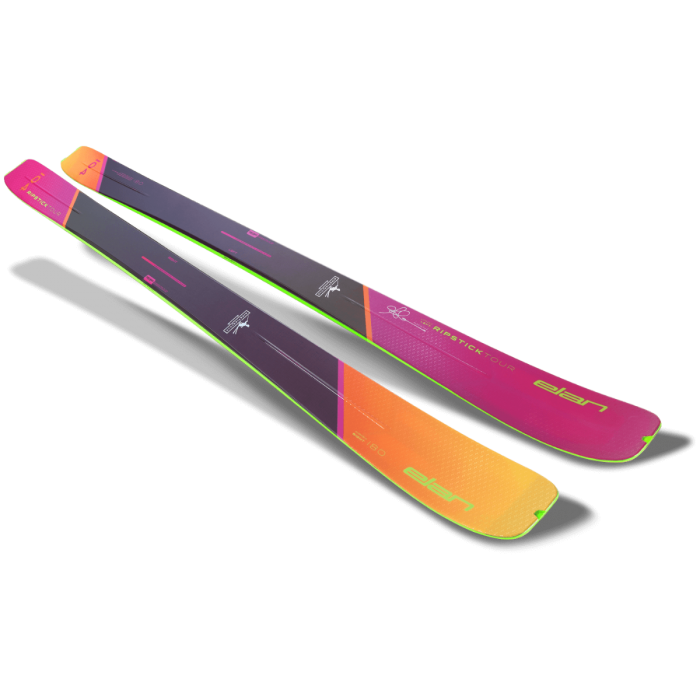 Elan Ripstick Tour 104 - Glen Plake Skis 2023
IN-STORE PICK UP ONLY. All online orders must be picked up at Rockport, ME location.
Glen Plake´s first signature model has been a long time in the making and with the combined experience of Plake and Elan, a ski worthy of his signature is born. The Ripstick Tour 104 was designed and tested from the ground up by Elan ambassador and freeskiing pioneer Glen Plake, and blends the lightweight construction necessary for efficient ascents with the legendary performance and style of Glen.
Developing a signature model ski with world-famous freeskiing legend Glen Plake was an honor. Plake is among the best freeskiers in the world and knows what skiing represents, which is why we broke the mold to create something worthy of wearing Plake's name. The Ripstick Tour 104 chassis is 104 mm underfoot and utilizes ground breaking carbon construction, to achieve what was believed to be an illusion; the perfect blend of freeride power and touring agility. Packed with lightweight carbon and Carbon Bridge Technology, it merges mind-blowing downhill performance with lightweight uphill capability. Plake's signature model was tested and confirmed with our C-RAIDER 12 tech bindings that are known for being strong, reliable, and lightweight, at just a mohawk-hair over 300 g. To complete the package, the Ripstick Tour 104 hybrid skins made with a mix of 65 % Mohair and 35 % nylon to achieve the perfect glide and grip ratio to support the ski in all situations. From the Alps of Europe to California's Sierra Nevada, Glen's ski is the choice for any freeskier seeking legendary performance and punk rock style.
KEY CHARACTERISTICS
Best Deep Snow Performance
Best Flotation
Smooth Turn Entry & Exit
Playful Rebound
Light Weight