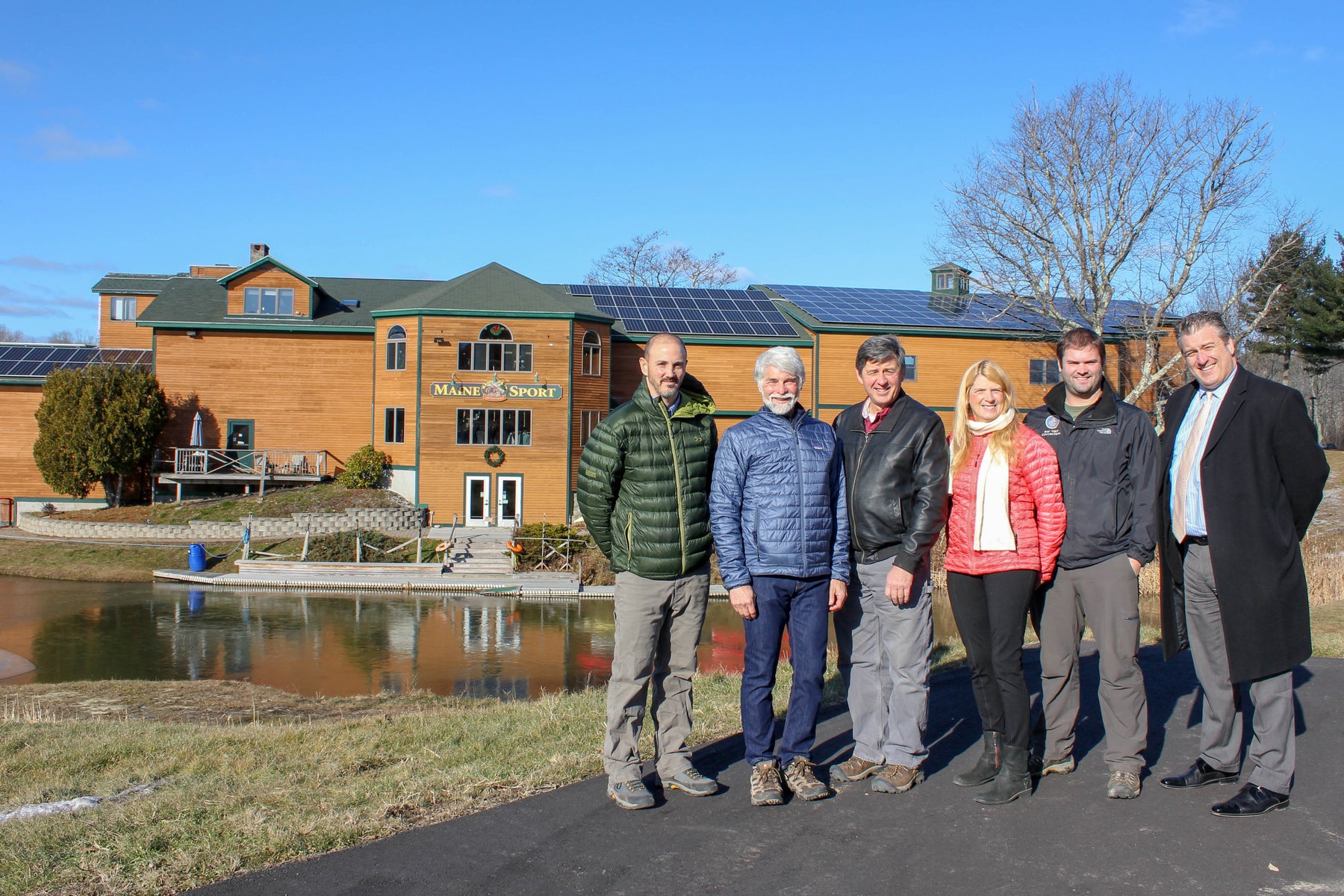 Maine Sport Outfitters Completes Solar Project and Store Renovation
ROCKPORT, MAINE – Maine Sport Outfitters recently completed a comprehensive solar project atop their flagship location, 115 Commercial Street in Rockport, capping off a very busy fall season for the store.
Partnering with SunDog Solar, a local company from Searsport, and First National Bank, Maine Sport owners, Stuart and Marianne Smith, installed a large solar array, on the roof of their Rockport business. This array, consisting of 182 mono crystalline solar panels, will provide over 74,000 KWhrs of electricity per year, or enough power to supply electricity to seven standard residential homes. The project was able to take advantage a federal tax credit and rapid depreciation program, that will allow for a 6-year return on investment. "This project reflects Maine Sport's commitment to our natural environment, as well as supporting the business's long-term financial health. This is truly a win-win effort for Maine Sport.", said Smith. "Both SunDog and First National Bank were instrumental in making this project possible." Smith went on to say. This continues a recent trend for The First financing solar projects similar to the Maine Sport Outfitters project.
In addition to completing the solar project, Maine Sport Outfitters is also wrapping up an expansive store renovation that is set to improve customer flow and ease of shopping. This renovation includes the addition of a new stairwell to the Rack Shop/Paddle Sports department, and the reconfiguration of the Books and Maps, Footwear, and Men's, Women's and Children's Clothing departments. "These changes will allow Maine Sport to better serve our customers who are shopping for clothing, as well as expand our Fishing and Camping Departments and better showcase our footwear selection" said Troy Curtis, new General Manager of Maine Sport.
Pictured from left to right is Troy Curtis, Stuart Smith, Chuck Piper (Sundog Solar), Marianne Smith, Tyler Smith and Todd Savage (First National Bank).
About SunDog Solar: Sundog Solar was founded in 2009 by a father and son team, Chuck and Danny Piper, to make solar energy affordable and available throughout Maine. The company has since installed hundreds of solar electric, solar hot water, and heat pump systems in Bangor, Ellsworth, Rockland, Camden, Rockport, Stockton Springs, Augusta, and surrounding areas.
About First National Bank: First National Bank (formerly The First, N.A.), was established in 1864 and now has 16 branches located along Maine's coast from Wiscasset to Calais and one inland branch in Bangor.