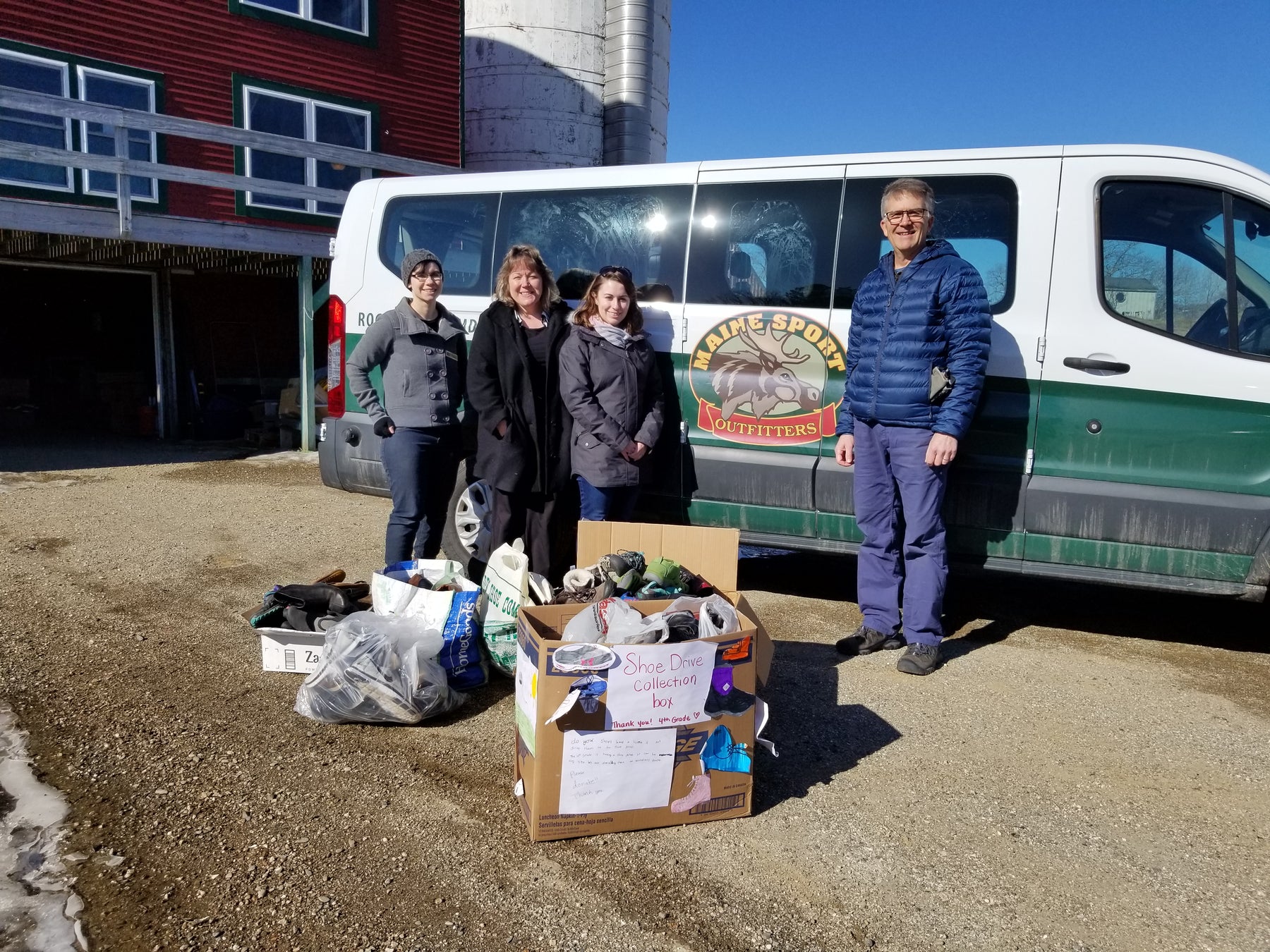 Successful Shoe Drive Benefits the Knox County Homeless Coalition
Maine Sport Outfitters recently teamed up with the Knox County Homeless Coalition to hold a shoe drive. Assistant Manager Katy Silva came up with the idea as a way to recognize National Shoe the World Day, a day that brings awareness to the 500 million children, teens and adults around the world who don't own a pair of shoes. During the week of National Shoe the World Day, which falls every year on March 15th, Maine Sport's Rockport and Camden locations collected gently used or new shoes.
Staff members at Maine Sport were pleasantly surprised by how the community embraced the opportunity to give back and help others in need. A local 4th grade teacher set up her own collection box in her classroom to teach her students the importance of helping one another. Another woman purchased a pair of shoes from a local consignment shop just to donate them. Many came in with large bags filled with multiple pairs of shoes.
Maine Sport's Katy Silva, Samantha Batson and Jeff Boggs delivered six overflowing cardboard boxes and multiple bags of shoes to the Knox County Homeless Coalition's donation center in Rockport on Wednesday, March 20th.
About the Knox County Homeless Coalition
Knox County Homeless Coalition, founded in 2014, is the only dedicated homeless organization serving Knox, Waldo and part of Lincoln counties offering comprehensive case management to more than 600 individuals annually. They also manage the Hospitality House family shelter—a live-in facility for up to 22 in Rockport. Their mission is to break the cycles of poverty and homelessness in Mid-coast Maine, offering a holistic wraparound approach to helping vulnerable people build productive and self-sustaining lives. Everything they do is delivered with respect, dignity and genuine caring, delivering on the promise of home, help, and hope.
Since opening their doors in 2014 KCHC has maintained a 90-95% success rate for sustainable independence for clients who remain active through their complete program. The transportation program, added in 2015, helps remove one of the most critical barriers to rural independence. The newest program of KCHC, The Landing Place, is a highly-relational, comprehensive program for unaccompanied and high-risk young people with youth-specific case management, outreach and a youth center located on Park St. in downtown Rockland.