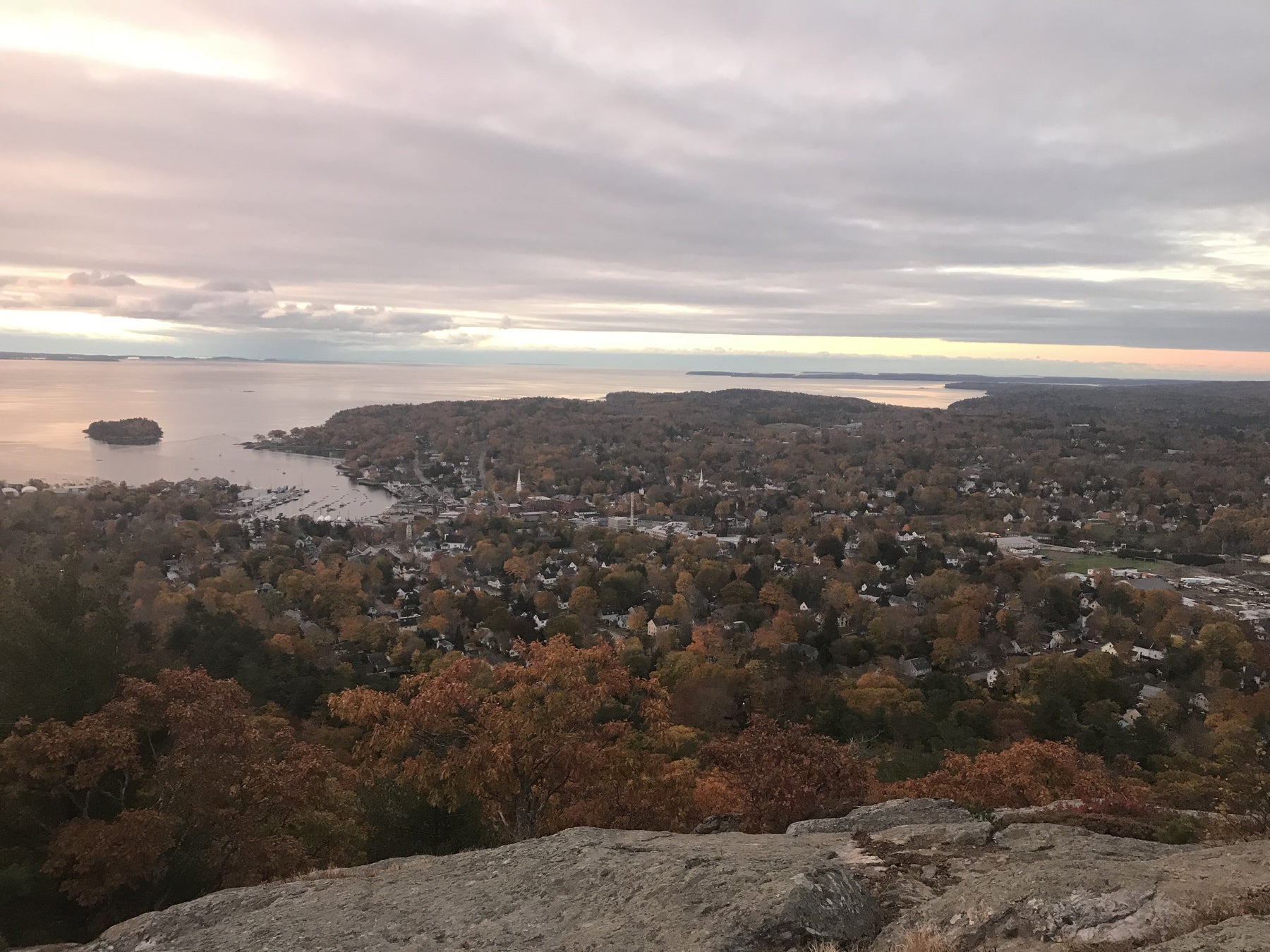 Fall Foliage Guide to the Camden Hills
Where to go for the best fall foliage in the Camden Hills
Well, it's that time again. The temperatures are dropping, days are getting shorter at an alarming rate, and the trees are starting to turn. They haven't broken out into their full colorful array, so now is the time to plan for when they do! You can be sad that fall is coming so quickly or you can embrace the changes and search out the beauty in this transitory season.
One of the great parts of living in Maine is the abundance of changes in the weather and environment when the seasons change. The night time temperatures drop into the cozy zone and the trees are on full display of colors and shades. The different reds, oranges, and yellows mingling with the dark green of our famous evergreen pines create a canvas of colors that attracts visitors from all over.
Nestled in the Camden Hills are hills and hikes that put the foliage on full display. I have rated these hikes based on their accessibility and their view on a scale of 5. 1 being strenuous hiking and a 5 being very accessible and 5 being the best views!
Maiden's Cliff
Accessibility 3
View 5
Maiden's Cliff is one of the best known hikes in the Camden Hills, and for good reason! This one mile hike is relatively steep, but it overlooks Megunticook Lake and the sea is visible as well. This view encompasses large swathes of tree coverage and the lake serves as a highlight against the colors of the trees.
Beech Hill Preserve
Accessibility 5
View 4
Beech Hill Preserve is a very short walk up a gravel path to the top of a commercial blueberry field. As a blueberry field, there is very little tree coverage on the hill which gives an open view in many directions. The surrounding hills are taller and blanketed in trees to serve as ample foliage viewing. Arrive at the top at sunset for a stupendously golden view.
Mount Battie
Accessibility 5 or 3
View 4
Mount Battie has to be the most accessible of vantage points because there is the access road from Camden Hills State Park that allows you to drive up. Alternatively, there is a relatively short hike that can take you from the parking lot of the State Park or a very short and very steep trail from Megunticook st in Camden. This view inspired Edna St. Vincent Millay's poem "Renascence."
Fernald's Neck
Accessibility 3
View 3
Fernald's Neck is a lovely walk that puts you at eye level with Megunticook Lake. Because Megunticook Lake is central to the Camden Hills, it feels as if every direction holds a new hill with splendid colors. The trail has a few points that have some tenuous footing but it's very manageable if you take your time. Not only will you get to look out at the lake and the hills at a few points, you will also be walking through tree coverage seeing the colors from the ground up.
Ragged Mountain/Camden Snow Bowl
Accessibility 5 or 1
View 5
Ragged Mountain has to be one of the best views of the surrounding area. On the side of the Georges Highland Path and route 17, you can see Mirror Lake, Spruce and Pleasant Mountains, and even Beech Hill Preserve. This side of the path is very strenuous and it is recommended to take your time on the steep incline. However, where Ragged Mountain really shines is that on the side of the hill facing the Barnestown Road, you can take a chairlift up. Serviced by the Camden Snow Bowl, there are Fall Chairlift rides up Ragged Mountain. This mountain becomes the most strenuous and the easiest of views to see because of these options. Ragged Mountain has a lovely view of the surrounding hills and as one of the higher points around, it gives good visibility to the bay.
There's Much More to Explore!
There's beautiful foliage in every direction on the Midcoast. Anywhere you decide to search for the changing colors will be met with reds, yellows and greens of many shades. These are some of the best views that I would recommend, but what are some of your recommendations!
Ethan Merrifield is a reader, a runner and, now, a writer. Always active and looking for ways to challenge himself – outdoors and intellectually – he has returned to Midcoast Maine after college and is searching for his next adventure.
Pictures were provided by AJ Silverton and Riki-Lynne Willmon; much appreciated.