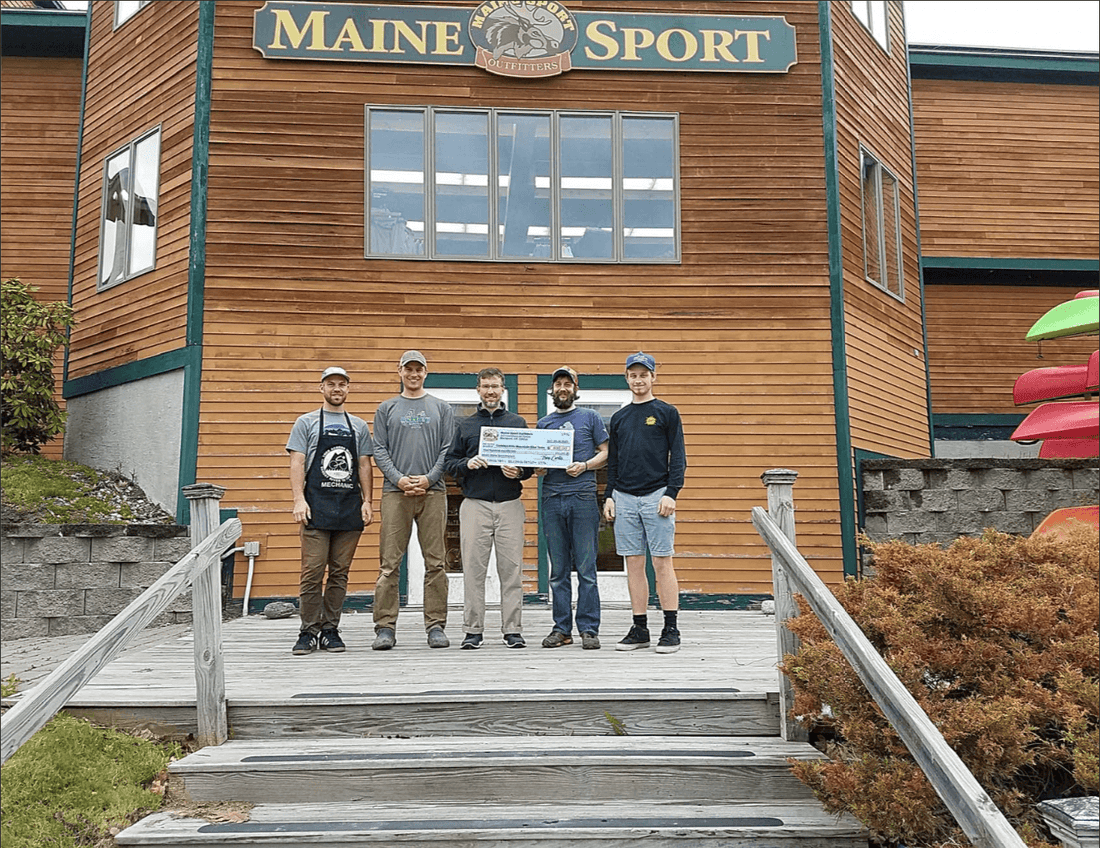 Pictured above (left to right): Bike shop staff Lukas Bal, CHRHS Coach Cy Scofield, Coach David Cooper, Bike Shop Staff Colin Borowske, and Bike Shop Staff and CHRHS MTB team member, Dillion Mackey, receiving a donation for four-hundred dollars from Maine Sport Outfitters.
Nearly twenty mountain bikers and runners took to the trails last week to compete in the annual Maine Sport Mayhem, a series of mountain bike and trail running races.
Maine Sport Outfitters partnered with the CHRHS Mountain Bike Team to host a day full of racing and fun. Participants could compete in short or long races, or complete a fun-run lap around the trail. The Maine Sport Bike Shop donated four-hundred dollars to the high school's program.
CHRHS Coach David Cooper said, "The CHRHS Mountain Bike Team was thrilled to be a part of this event and hopes to partner with Maine Sport in the future in some way." The team says they plan to use the proceeds from the event to help cover future race registration fees, equipment updates, and team apparel.
The Maine Sport Outfitters Bike Shop recently moved locations within its Rockport store, but continues provide area residents and visitors with a full service bike shop that includes sales, service and rentals. Maine Sport General Manager and CEO, Troy Curtis, said, "Maine Sport is really pleased to provide this support to this great group of kids and volunteers. We are also truly grateful for all the hard work they put into getting the Maine Sport Bike trail ready for use."
The CHRHS team worked for two Sundays cleaning up the trail system located onsite at Maine Sport.
For over 40 years, Maine Sport Outfitters has provided quality products, exceptional service and dynamic programs to the healthy-minded and outdoor enthusiast packed community of Midcoast Maine. With 35,000 sqft of great products and rental options spread over three floors in our Rockport location and even more gear in our satellite store in Camden, Maine Sport Outfitters offers something for everyone. For more information, visit www.mainesport.com.