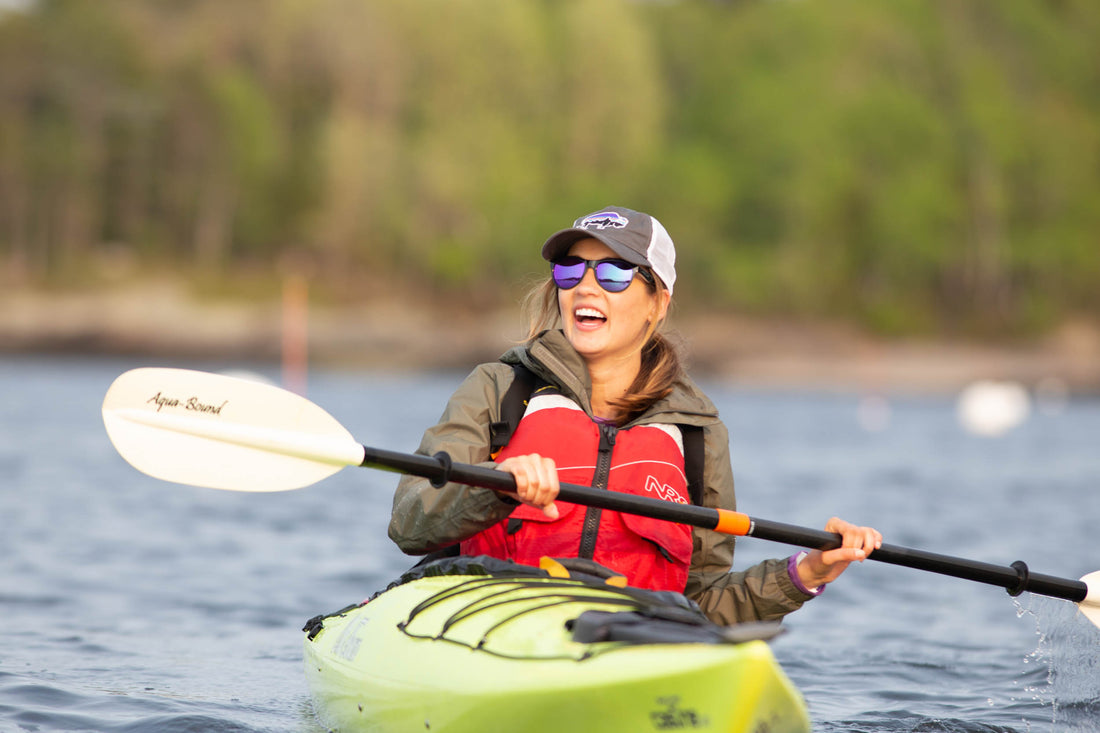 What's the Maine Thing To Do? A Guide To Exploring Maine's Coast
Have you been waiting all winter for some relaxing summer fun on the water? Look no further: we've compiled a list of our favorite places in and around Penobscot Bay. From hidden local eateries to rewarding day hikes, we've tracked down your next weekend getaway.
Locations:
Maine Sport Outfitters: Camden
Our downtown Camden location has everything you need if you're looking to enjoy the Maine outdoors.
24 Main St, Camden, ME
www.mainesport.com
1: Megunticook Falls
Camden's Megunticook River runs from Megunticook Lake to the inner harbor, ending in cascading waterfalls. It is best enjoyed from Harbor Park or the Camden Public Landing.
33 Main St, Camden, ME
2: The View at 16 Bay View
The rooftop bar and terrace at Camden's newest luxury boutique hotel offers a carefully selected list of wines, local and domestic beers, and a delicious small plates menu. Choose from an assortment of savory and sweet offerings while relaxing and enjoying breathtaking views of Camden Harbor and the Camden Hills.
16 Bay View St, Camden, ME
www.16bayview.com
3: Fresh and Co
This menu is one of a kind, catering to vegan, vegetarian, gluten-free, and meat-loving guests. All of the food is prepared in-house daily, ensuring that every bite is as fresh as possible.
1 Bay View St, Camden, ME
www.freshandco.com
4: Owl & Turtle Bookshop Café
The welcoming atmosphere in this shop provides a homey place to nestle in with a warm beverage on a cool New England morning. While there, don't miss your chance to browse the shelves for a good read to take down to the beach.
33 Bay View St, Camden, ME
www.owlandturtle.com
5: Waterfront
Traditional seafood dishes get an updated twist at this popular eatery and bar that is, indeed, right by the water.
40 Bay View St, Camden, ME
www.waterfrontcamden.com
Maine Sport Outfitters: Rockport
With 35,000 square feet of great products spread over three floors, Maine Sport Outfitters offers something for everyone. No matter your preferred outdoor activity or where in Vacationland you might be headed, we've got you covered.
115 Commercial St, Rockport, ME
www.mainesport.com
6: Nina June
Picture fresh, authentic Mediterranean food served in a light-drenched dining room by the sea, and you've got Nina June. Stop in to savor the upscale family-style atmosphere and the attention to detail that is a hallmark of this restaurant. Opa!
24 Central St, Rockport, ME
www.ninajunerestaurant.com
7: Seafolk Coffee
Hands down, Seafolk serves the best matcha latte in midcoast Maine. Here you'll find scrumptious baked goods, mouthwatering open-face sandwiches, and friendly staff. Look for the blue doors to find this hidden gem.
22 Central St, Rockport, ME
seafolkcoffee.com
8: 18 Central Oyster Bar & Grill
18 Central supplements its fine dining with a wood-fired grill and raw bar. Enjoy casual elegance and the freshest of Maine seafood at this delightful establishment.
18 Central St, Rockport, ME
www.18central.com
9: Camden Hills State Park
Camden Hills State Park is a 5,710-acre public recreation area overlooking Penobscot Bay. The park features multi-use trails to Mount Battie, Mount Megunticook, and other scenic locales, as well as numerous rock climbing routes for the crag junkie.
280 Belfast Rd, Camden, ME
www.stateparks.com/camden_hills_state_park_in_maine.html
10: Sagamore Farm Trailhead
Sagamore Farm is a 77-acre property that abuts Camden Hills State Park. This farm has four distinct sections: a field, an adjacent wetland, a gently sloped wooded area, and a steeper wooded area that leads up to the base of Mount Battie.
Sagamore Farm Road, Camden, ME
11: Mt. Battie (Coastal Mountains Land Trust)
At 1.1 miles, the out-and-back Mount Battie Trail is best enjoyed from May to October and sports beautiful wild flowers in the warmer months. Considered moderate in difficulty, the trail is primarily used for hiking, nature trips, and bird watching.
101 Mt Battie St, Camden, ME
www.coastalmountains.org
12: Curtis Island
Take a kayak tour out to Curtis Island and enjoy the views! Paddle at a leisurely pace past cruising yachts and historic schooners, then disembark to hike around the island and visit the lighthouse.
Camden Harbor, ME
13: 3 Dogs Café
With over 20 years of experience making fabulous cakes, pies, and sandwiches, 3 Dogs Café has the snack you're looking for before you hit the road. Their full-service coffee bar is also perfect for a caffeinated pick-me-up.
309 Commercial St, Rockport, ME
www.3dogscafe.com
14: Rockport Harbor (Harbor-to-Harbor Tour)
These 5-hour guided tours follow the rocky shoreline of Western Penobscot Bay and thread between the Muscle Ridge Channel and the town of Camden. Pack a picnic and savor wonderful views of the Camden Hills and the islands of Penobscot Bay.
Tour departs from Maine Sport, click here to learn more.
15: Flatbread Company
Traditional clay ovens cook organic ingredients to perfection at Flatbread Company. Grab a wood-fired pizza to go and take it down to the water to watch the sunset make the harbor glow.
399 Commercial St, Rockport, ME
www.flatbreadcompany.com
16: Beech Hill Preserve Trailhead
Beech Hill is an extraordinary hiking, picnicking, and birding destination that treats visitors to panoramic views of Penobscot Bay, the Camden Hills, and the St. George Peninsula.
76 Rockville St, Rockport, ME
www.mainetrailfinder.com/trails/trail/beech-hill-preserve
17: Brewster Point
During high tide, this small saltwater beach is a great place for a swim. When the tide goes out, explore the mud flats for seashells, crabs, and sand dollars.
Rockport, ME
18: Primo Restaurant
At Primo, farm-to-table principles are taken seriously. All produce served in the dining room is grown and harvested on site, and the meat is from animals raised on the property. Seasonal to the moment, this restaurant's ever-changing menu is dictated by its garden's bounty.
2 Main St, Rockland, ME
www.primorestaurant.com
19: Plaisted Preserve
This short, pleasant walk takes you to idyllic Broad Cove. The one-way trail stops at a bluff overlooking the water, and the views encompass typical Maine splendor. From there, scramble down a steep path to get to the beach.
N Shore Dr, Owls Head, ME
20: Owls Head Lighthouse
Still guiding ships and fishing vessels away from the jagged rocks of Penobscot Bay, Owls Head Light sits at the entrance to Rockland Harbor. The nearby town of Owls Head is home to an impressive transportation museum and a sandy beach, Birch Point.
186 Lighthouse Rd, Owls Head, ME
www.lighthousefoundation.org