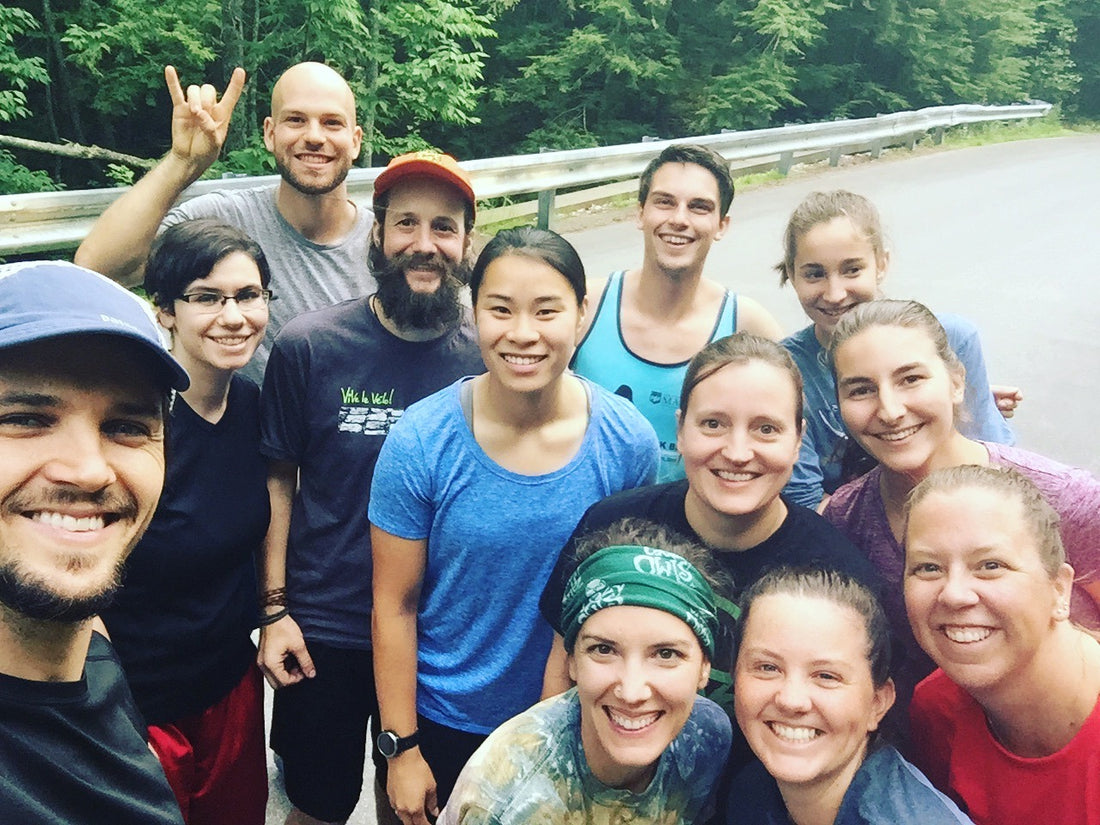 Get a Sense of Trail Running
A Beginner's Guide to Running Through the Trees
With the weather heating up, it feels like nature is calling. One way to listen in is to get out in the woods and run! Trail running is a fantastic sport to get into this summer. The cardio, lower body and health benefits are incredible. And running is the most accessible exercise because you only need a good pair of shoes. But running through the trees and over rocks is trickier than the treadmill. Trickier trail running may be intimidating for some, so I am here to encourage you to lace up and hit the trails.
Trail running can be a lot to take in at first. But it will really put you in tune with nature and your senses. Running in the woods can awaken your physical senses to the natural world. Getting to know yourself and the trails requires getting out into nature. For those who still might be intimidated, here are five tips I can offer to help you prepare yourself and get the most out of running with the wind.
Thinking about trail running requires thinking about the five senses: sight, hearing, touch, smell, and taste. These senses are the important building blocks for how you interact with the world and the world communicates itself to you. Get a sense of them!
Sight
Probably the most helpful sense in navigating the world. Being able to see the rocks and roots ahead of you on the trail is vital.
Scan your path, passing your sight between looking at the obstacles at your feet and the obstacles ahead. Usually between one and six feet is a good distance that doesn't leave you distracted. By scanning the trail you should be able to react accordingly to rocks or roots at your feet and plan your next steps. Taking in what's ahead is an aspect of trail running that you don't encounter on the road to the same degree. Of course when road running you need to see what's coming, but usually you can expect a consistent surface. Because trails are very uneven and inconsistent, make sure to look out for changes and features.
If you try to look ahead too far, you may get distracted from what is directly in front of you. Tripping is no fun and potentially painful. As you become a more adept trail runner or become more familiar with the trail, you can take in more distance ahead. This becomes more important as you get faster and scanning further ahead becomes easier.
Once you have mastered scanning your path, taking in the information and dodging obstacles becomes fun!
Hearing
This sense can be hard to focus on because moving through the woods is usually thought to be quiet. But it's not yourself that you need to hear.
Listen for others, as many running trails are multi-use access. Hikers, mountain bikers and even horseback riders are all common encounters on trails. Listen for others and you can ensure that you and others stay safe. As a common rule: give way for horses and mountain bikes and concede to hikers if you are descending on a mountainous trail. Look out for others so that everyone can enjoy the beauty of local trails.
While you may encounter others, one of the relaxing aspects of trail running is that you are usually alone with nature. When you open up your ears you may just hear the birds chirp and the bushes rustle as deer bound away. I've been able to run with deer, spot foxes, and scare up rabbits because I listened and kept myself aware of my surroundings!
Touch
Physical activity involves your sense of touch the most. Feeling your feet on the ground and moving your body through the air is great in theory, but can be pretty difficult in practice.
Gauge the effort of your pace. Trail running is much less predictable than running on the roads. Expect to run at a much slower pace with the same amount of effort as your road runs. If you want to run well on the trails, try to run for effort. Gauge how you feel and speed up or slow down accordingly.
Depending on the terrain your times will vary intensely. Because trail running encounters all types of terrain, don't expect your pace to be consistent. Instead, you should go for longer, slower runs. Trail running can be frustrating if you come to the trail with the expectation of running a quick pace, but you become more familiar with your body.
Smell
Smell might not seem like it has much to do with running, but it has everything to do with your breath. Oftentimes people struggle to breathe when running. Not being able to breathe properly is frightening and can put people off from running.
Maintain a steady, but adaptive rhythm with your breathing. This will not be the same rhythm that you're using when sitting or walking. Being able to find this rhythm is a skill that takes practice as a runner. And you will come to find that the amount of times you need a breath will change depending on the terrain; this is a good thing. Trying to maintain the same rhythm is difficult and frankly, your breathing should change depending on what you're running over.
On the road, maintaining a steady breath can be a goal because of the consistent surface. But on a trail, you may have to react quickly to a change in footing or speed. This changes your breathing, but being able to find that new pattern of breathing is important. As you get stronger, your breathing can be more steady. Work on finding a rhythm when running but don't expect to rigidly follow a pattern on your whole run.
Taste
Taste the freedom.
Honestly, I fell back in love with running because of trail running. After years of covering miles on the tar, the monotony was starting to color my experience. But running through the woods, it feels as if I am connecting with my inner child. Not worrying about pace is liberating. Focusing on the trail and nature encourages curiosity. Sometimes I find myself jumping over rocks and other obstacles just to feel the thrill.
When you were a kid, you ran everywhere at full speed. Now we see running as a chore. Isn't it nice to get back to the enjoyment of running over hills and jumping over rocks? I know it is for me.
Get a Sense of Trail Running
So by scanning your path, listening for others, gauging your efforts, maintaining a steady adaptive breathing rhythm and tasting the freedom you too can learn to fall in love with trail running. Using your senses to become more in tune with nature, trail running will become second-nature.
Trail running plays into the senses and helps connect you to nature. By outlining tips in reference to the five senses, I intend for this advice to encourage anyone who wants to try running to give it a shot. I think that becoming healthy and understanding yourself through running is a fantastic goal for anyone to enjoy.
Further Information
Whether as a hiker, biker, runner or anything else, Maine has a lot to check out. In a state covered in trees (about 90%, the most of any state), we are immensely fortunate to have such a natural playground. Groups such as Coastal Mountain Land Trust, Georges River Land Trust, Camden Hills State Park, Midcoast Conservancy, New England Mountain Bike Association and so many more associations are making sure to keep Maine land protected and open for public use. These trails are to be loved and used and I personally can't think of a better way to enjoy them than running.
A good way to enjoy these trails and get interested in running is to join a group of runners. Here at Maine Sport, a group of us have started the Swamp Donkeys Trail Runners. A casual and fun social running group that is open to all runners with the hope that people can make new friends, get active and enjoy the trails in the Camden/Rockport area that we love so much. We meet on Tuesday evenings at 6:45pm right at Maine Sport Outfitters in Rockport. Follow our instagram page, @swampdonkeysrunning for updates and to find out what trail we'll be visiting that run! We hope you join us!
Ethan Merrifield is a reader, a runner and, now, a writer. Always active and looking for ways to challenge himself – outdoors and intellectually – he has returned to Midcoast Maine after college and is searching for his next adventure.