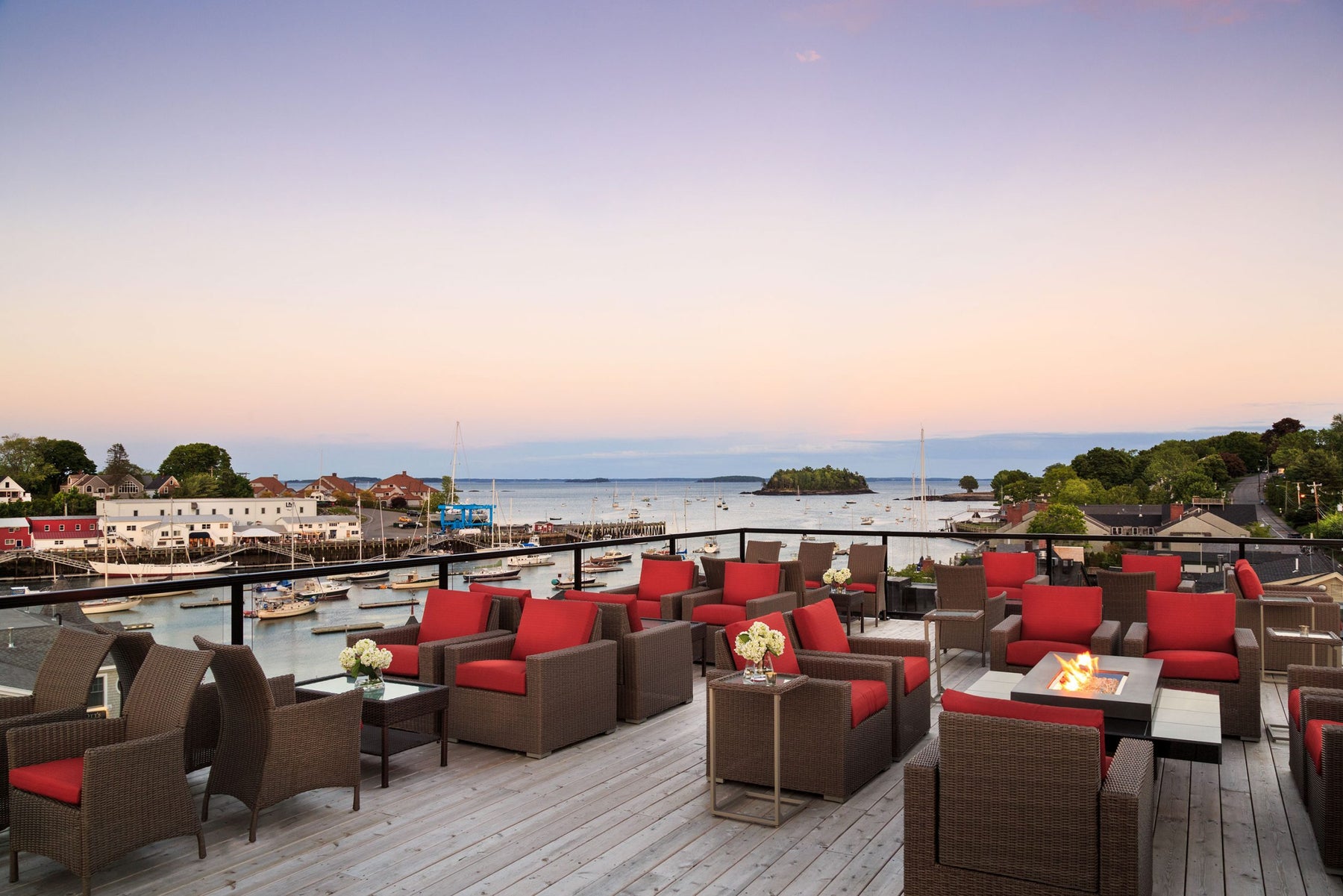 Stay local. Travel local. Explore local.
Looking to spend time away from home? Explore Camden, where the mountains meet the sea. Take in the coastal ambiance, while being surrounded by the comfort of home. All three Bay View Collection properties are ready to accommodate your next stay.
Many of our plans for 2020 have been altered, given the coronavirus pandemic. All three Bay View Collection properties are committed to abiding by the American Hotel & Lodging Association's Safe Stay Standards, an extraordinary measure in keeping guests safe. These standards are presented by the Center for Disease Control, in efforts to keep guests and staff safe.
There is no better time to support local businesses and stay in the comfort of your own state. 16 Bay View, the Grand Harbor Inn, and the Lord Camden Inn are welcoming guests for their relaxing getaways. Visit your home-away-from-home destination. Sit back, relax, and enjoy the view!
Here's what your day around town may look like:
9 am: Wake up with breakfast delivered to your luxurious Curtis Island Suite at the Grand Harbor Inn.
9:30 am: Enjoy a fresh pot of locally-sourced Carrabassett Valley Coffee Company's "Bad Dog" blend while overlooking the breathtaking view Camden Harbor exhibits.
10:30 am: Shop around Camden! Beginning at Maine Sport Camden to suit all of your outdoor adventures, to FatFace, where you'll find the trendiest new fits, and stopping by Uncle Willy's Candy Shoppe for all of your sugar cravings! We won't judge, I promise!
12 pm: Head over to Camden Hills State Park to hike one of our local favorites, Mount Battie! The outstanding views of Camden Harbor will make the journey to the top all worth it.
2 pm: Stop by the Waterfront for a mid-afternoon lunch. Take in the view from their deck and indulge in coastal Maine cuisine!
4 pm: Relax while enjoying a fresh, hand-crafted cocktail and an appetizer at The View, 16 Bay View's rooftop terrace bar. The View is one of the Bay View Collection's on-site bars, ready to serve guests from 4-9 pm, 7 days a week! Ready to try a Chili Mango Margarita? Say no more!
5 pm: Begin loading kayaks for the Camden Harbor Sunset Tour! The boats depart from the Bay View Landing. Don't forget your camera!
8 pm: Arrive at the docks after your three-hour kayak tour with local experts. Walk right next door to Blaze Brewing Company, where you'll get to enjoy the local flavor of wood-fired seafood. Did someone say local beer?
9 pm: Return to your Curtis Island Suite over at the Grand Harbor Inn. Wind down by taking a bath in our jetted bathtubs. Surround yourself in ultimate comfort with our top-line Turkish Towel Company luxury towels.
10 pm: Find yourself at home with our Serta Presidential Suite II Euro Pillow Top Mattress. You'll be in your most comfortable state, along with Cuddledown of Maine's fluffy pillows, comfy brand sheets, and quilted throws to keep you snug throughout the night.
11 am: You're not ready to check out! As a proud local guest, you've already looked into coming back again. We're sad to see you go, but will welcome you back with a great smile next time you step foot into a Bay View Collection property.
Ready to book your staycation with us? Now, where to stay is the question you might be asking yourself.
The Bay View Collection is a small-scale luxury, boutique hospitality company based out of Camden. Three amazing choices and one remarkable destination! Each property has its own unique offerings that you'll fall in love with. Upon check out, you'll be asking our team to book your next stay!

Lord Camden Inn
Where boutique meets historical. Find yourself at home at the Lord Camden Inn, the Bay View Collection's first property. With 36 guest rooms, the Lord Camden Inn is able to accommodate guests with diverse needs. Want a room with a full harbor view? We can get you booked on one of our newly renovated fourth-floor guest rooms. Even better, you receive complimentary breakfast with your stay. You'll be steps away from Camden's finest shops and restaurants.

16 Bay View
Camden's newest boutique luxury hotel. 16 Bay View exhibits modern decor through its eight suites and thirteen guest rooms. 16 Bay View is the product of a 100-year old renovation. History lives within the walls of all of our guest rooms, restoring original pieces to give an interior flavor of the community that lives within the streets of Camden.
Relax on our balconies, overlooking Bay View street and Camden Harbor. Grab a drink and come take in the breathtaking views that The View, our rooftop terrace bar exudes. Just feet away from Camden's shops and restaurants, 16 Bay View is ready to welcome you with warm hospitality.

Grand Harbor Inn
Enjoy the breathtaking view from your suite at the Grand Harbor Inn! As Camden's waterfront luxury 4-diamond AAA property, you'll find yourself at home in our luxurious guest rooms and suites. As an 11-room property, the Grand Harbor Inn exhibits coastal architecture throughout the walls of our guest rooms and the exceptional service provided to our guests.
Written by:
Emily Kessel
Bay View Collection